Featured Item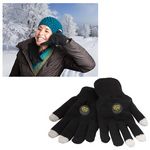 E-Z Import Bluetooth Talking Gloves (Pri...
A phone built right into these Acrylic Bluetooth® gloves allows you to talk through your hand. One glove has a speaker in the thumb and a microphone. Both gloves have capacitive technology in two fing...
C$56.36 - C$70.22
Welcome!
Promotional products are a form of advertising that people will actually be thankful for receiving.
PromoCentre is committed to providing all your promotional needs and assisting with your branding success. In its' simplest form - We are here to make you look good!
Promotional products can be used to: Improve traffic at trade shows, Motivate staff, Thank a customer or Increase safety awareness.
Whether you are looking for a specific item or just browsing for ideas, our site is your one-stop source. From fun items to the traditional, you can easily search and order from the hottest items on the market - 24 hours a day - 7 days a week.
Contact us to discuss your needs in greater detail - a PromoCentre representative will be happy to assist you.